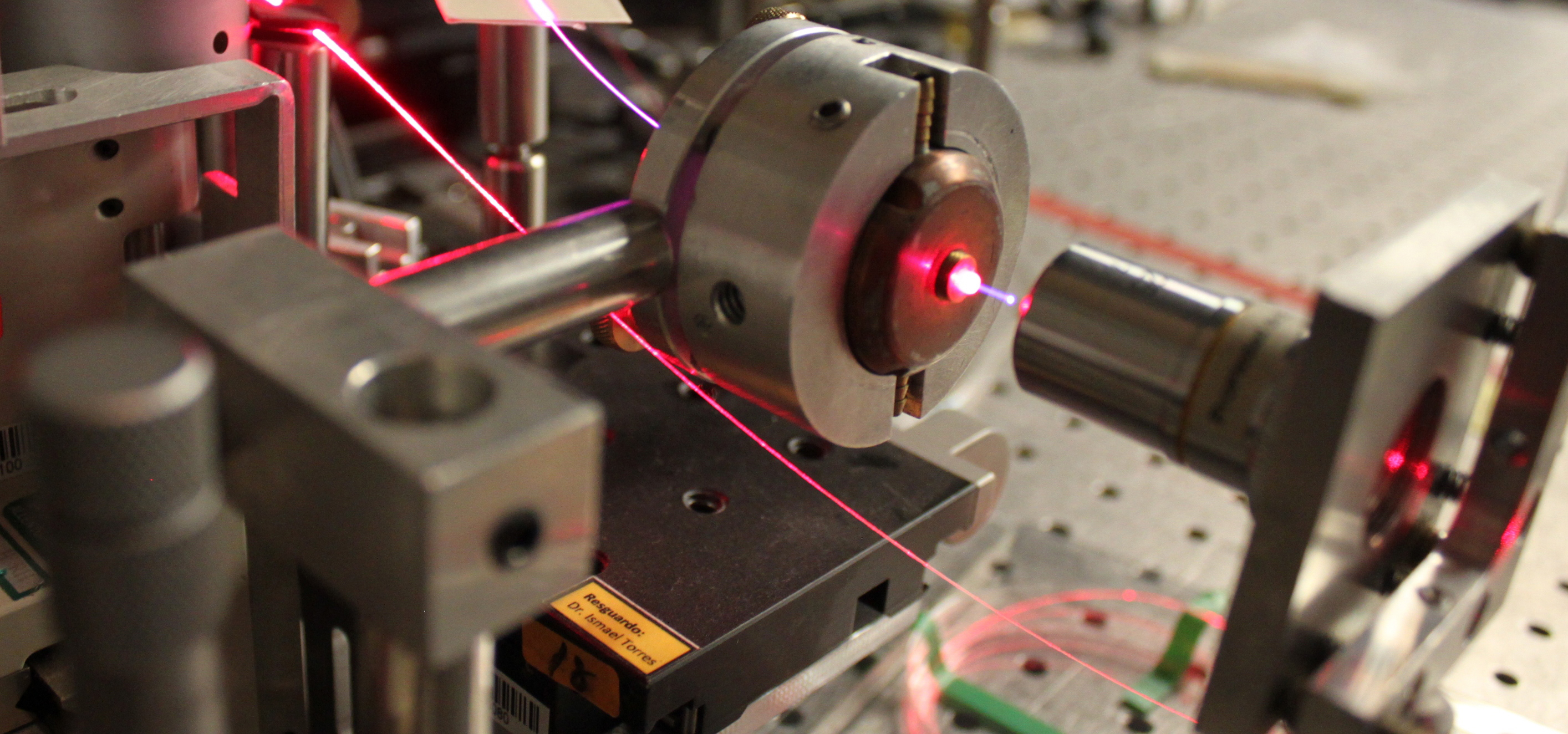 Nombramiento: Investigador Cátedra CONACYT
Nivel SNI: I

El Dr. Alfredo Benítez Lara finalizó sus estudios de licenciatura en electrónica en la Benemérita Universidad Autónoma de Puebla en diciembre de 2006. La maestría y el doctorado fueron obtenidos en el área de dispositivos semiconductores en el Centro de Investigaciones en Dispositivos Semiconductores perteneciente al instituto de ciencias de la BUAP en el 2010 y 2015, respectivamente. Realizó su estancia posdoctoral de enero de 2016 a septiembre de 2017 en la Universidad de Texas en San Antonio. Ahora es un investigador en el CIO por el programa de Cátedras-CONACYT.

Desarrollos

Se diseñaron dos reactores HFCVD en la UTSA y en la BUAP. Estos fueron diseñados para el depósito de óxidos como el ZnO y el SiOx. La configuración consiste en filamentos de tungsteno e hidrógeno para decapar fuentes sólidas para la obtención de los precursores y posteriormente realizar el depósito.

Sistema micro electro mecánico (MEMS) desarrollado en la BUAP. Este diseño fue usado para detectar los potenciales eléctricos en ratas de laboratorio. El sistema se desarrolló con en el diseño del patrón, micromaquinado y procesos de oxidación equivalente a la tecnología CMOS.

Sistema generador de imágenes por corriente inducida por el haz de electrones y catodoluminiscencia (EBIC-CL) diseñado durante la estancia posdoctoral en la UTSA. Este sistema fue diseñado con un Raspberry Pi 3 para detectar una señal sincronizada con el barrido del haz de electrones de un SEM, para generar imágenes de CL y EBIC en el campo de visión del microscopio. La CL colecta la emisión de luz de materiales luminiscentes y la parte de EBIC registra la imagen de la corriente inducida y los defectos estructurales.

Líneas de Investigación:

Celdas solares
Desarrollo de sensores (MEMS/NEMS)
Instrumentación en microscopía electrónica
Diseño de reactores CVD para el depósito de materiales luminiscentes para aplicaciones en celdas fotovoltaicas.
---
Publicaciones recientes:
2021
A. Benitez-Lara, H. Cisneros, E. Bautista, J. Molina, F. Morales, E. Morales-Narvaez, J. Carrillo-Lopez, H. Desirena and O. Lopez "Implementation of an inexpensive cathodoluminescence and electron beam induced current image generator coupled to a scanning electron microscope", Journal of instrumentation, 2021.DOI: https:/ /doi.org/10.1088/1748-0221/16/04/P04005
Zaira Jocelyn Hernandez Simon, José Alberto Luna López, Alvaro David Hernández de la Luz, Godofredo García Salgado, Karim Monfil Leyva, Jesús Carrillo López, Gabriel Omar Mendoza Conde, Alfredo Benítez Lara, Haydee Patricia Martínez Hernández, Erick Gastellou Hernández, Javier Flores Méndez. "SiOx films deposited by HFCVD: Their conduction response to light and intrinsic photovoltaic effect", Surfaces and Interfaces, 2021. DOI: https://doi.org/10.1016/j.surfin.2021.101411
2020
Zaira Jocelyn Hernández Simón, Jose Alberto Luna López, Alvaro David Hernández de la Luz, Sergio Alfonso Pérez García, Alfredo Benítez Lara, Godofredo García Salgado, Jesus Carrillo López, Gabriel Omar Mendoza Conde and Hayde Patricia Martínez Hernández "Spectroscopic Properties of Si-nc in SiOx Films Using HFCVD", Revista: nanomaterials, 2020 DOI: https://doi.org/10.3390/nano10071415
Omar Lozano, Christian Silva-Platas, Héctor Chapoy-Villanueva1, Baruc E. Pérez, Jarmon G. Lees, Chrishan J. A. Ramachandra, Flavio F. Contreras-Torres, Anay Lázaro-Alfaro, Estefanía Luna-Figueroa, Judith Bernal-Ramírez, Aldemar Gordillo-Galeano, Alfredo Benitez, Yuriana Oropeza-Almazán, Elena C. Castillo1, Poh Ling Koh, Derek J. Hausenloy, Shiang Y. Lim and Gerardo García-Rivas. "Amorphous SiO2 nanoparticles promote cardiac dysfunction via the opening of the mitochondrial permeability transition pore in rat heart and human cardiomyocytes", Particle and Fibre Toxicology, 2020. DOI: https://doi.org/10.1186/s12989-020-00346-2
2018
Benítez A, Santiago U, Sanchez J, Ponce A. DESIGN OF A CATHODOLUMINESCENCE IMAGE GENERATOR USING A RASPBERRY PI COUPLED TO A SCANNING ELECTRON MICROSCOPE. REVIEW OF SCIENTIFIC INSTRUMENTS, 2018 Jan;89(1):013702. doi: 10.1063/1.4986044.
E. Ojeda-Durán , K. Monfil-Leyva, J. Carrillo-López, A. Benítez-Lara, G. García-Salgado, J. A. Luna-López. DOWN-CONVERSION EFFECT CREATED BY SIOX FILMS OBTAINED BY HFCVD AND APPLIED OVER PN-JUNCTIONS. SILICON, Volume 11, DOI https://doi.org/10.1007/s12633-018-0029-4
N.Victoriano HuertaaJ.A.Luna LópezaJ.A.D.Hernández de la LuzaE.Gómez BarojasaA.Benitez LarabK.Monfil LeyvaaM.A.Domínguez Jimeneza. OPTICAL, MORPHOLOGICAL AND ELECTRICAL ANALYSIS OF HETEROSTRUCTURESPSI/C-SI AND SIO2/MWCNTS/PSI/C-SI. SENSORS AND ACTUATORS A: PHYSICAL, Volume 282, 15 October 2018, Pages 55-62. Doi: https://doi.org/10.1016/j.sna.2018.09.030
Jose A Hernandez, Jennifer Carpena-Nunez, Luis F Fonseca, Michael Thompson Pettes, Miguel Jose Yacaman and Alfredo Benitez. THERMOELECTRIC PROPERTIES AND THERMAL TOLERANCE OF INDIUM TIN OXIDE NANOWIRES. NANOTECHNOLGY, Volume 29, Number 36, doi: https://doi.org/10.1088/1361-6528/aaccd3
Jose A. Hernandez, Angel Ruiz, Luis F. Fonseca, Michael T. Pettes, Miguel Jose-Yacaman & Alfredo Benitez. THERMOELECTRIC PROPERTIES OF SNSE NANOWIRES WITH DIFFERENT DIAMETERS. SCIENTIFIC REPORTS, doi: https://doi.org/10.1038/s41598-018-30450-5.
2017
I. Vivaldo, M. Moreno,, A. Torres , R. Ambrosio , P. Rosales , N. Carlos , W. Calleja , K. Monfil and A. Benítez, "A comparative study of amorphous silicon carbide and silicon rich oxide for light emission applications", Journal of luminescence, 190, 215-220, 2017.
J.A. Luna López, D. E. Vázquez Valerdi, A. Benítez Lara, G. García Salgado, A. D. Hernández-de la luz, A. Morales Sánchez, F.J. Flores Gracia, and M. A. Dominguez, "Optical and Compositional Properties of SiOx Films Deposited by HFCVD: Effect of the Hydrogen Flow", Journal of Electronic Materials, 46, 4, 2017.
R. Mendez-Camacho, M. Lope-Lopez, V.H. Méndez, D. Valdez-Perez, E. Ortega, A. Benitez, A. Ponce, E. Cruz-Hernandez, "Nanowire Y-junctions formation during self-faceting on high index GaAs substrates", Royal Society of Chemistry, 7, 17813, 2017.
2016
E. Ortega, A. Ponce, U. Santiago, D. Alducin, A. Benitez-Lara, G. Plascencia-Villa, M. José-Yacamán, "Structural damage reduction in protected gold clusters by electron diffraction methods", Adv Struct Chem Imag, 2, 12 (2016).
W. Hsu, T. Kim, A. Benitez-Lara, H. Chou, A. Dolocan, A. Rai, M.J. Arellano-Jimenez, M. Palard, M. Jose-Yacaman, S.K. Banerjee, "Diffusion and recrystallization of B implanted in crystalline and pre-amorphized Ge in the presence of F", J. App .Phys., 120, 015701 (2016).